THE SPRING MARKET HAS ARRIVED! 
Fresh warm air, budding flowers and green grass bring excited buyers that are ready for a change.  Spring often sees an influx of buyers for a variety of reasons: warm weather has people out and about looking, buyers with kids are often preparing to move in the summer to work around school schedules, or the fresh newness of the season sparks interest in change. 
Whatever it may be, the spring market is hopping!
It's a great time for you or your family and friends to sell and we are here to walk with you every step of the way.

 
Our team has gathered our
top 
10 tips to get your home ready to sell
, including 
5 tips for the exterior 
and 
5 tips for the interior
. Sometimes sellers can focus on one or the other, but 
both are important 
in this market and so we've narrowed it down to the 5 most important tips for each. 
First let's talk exterior!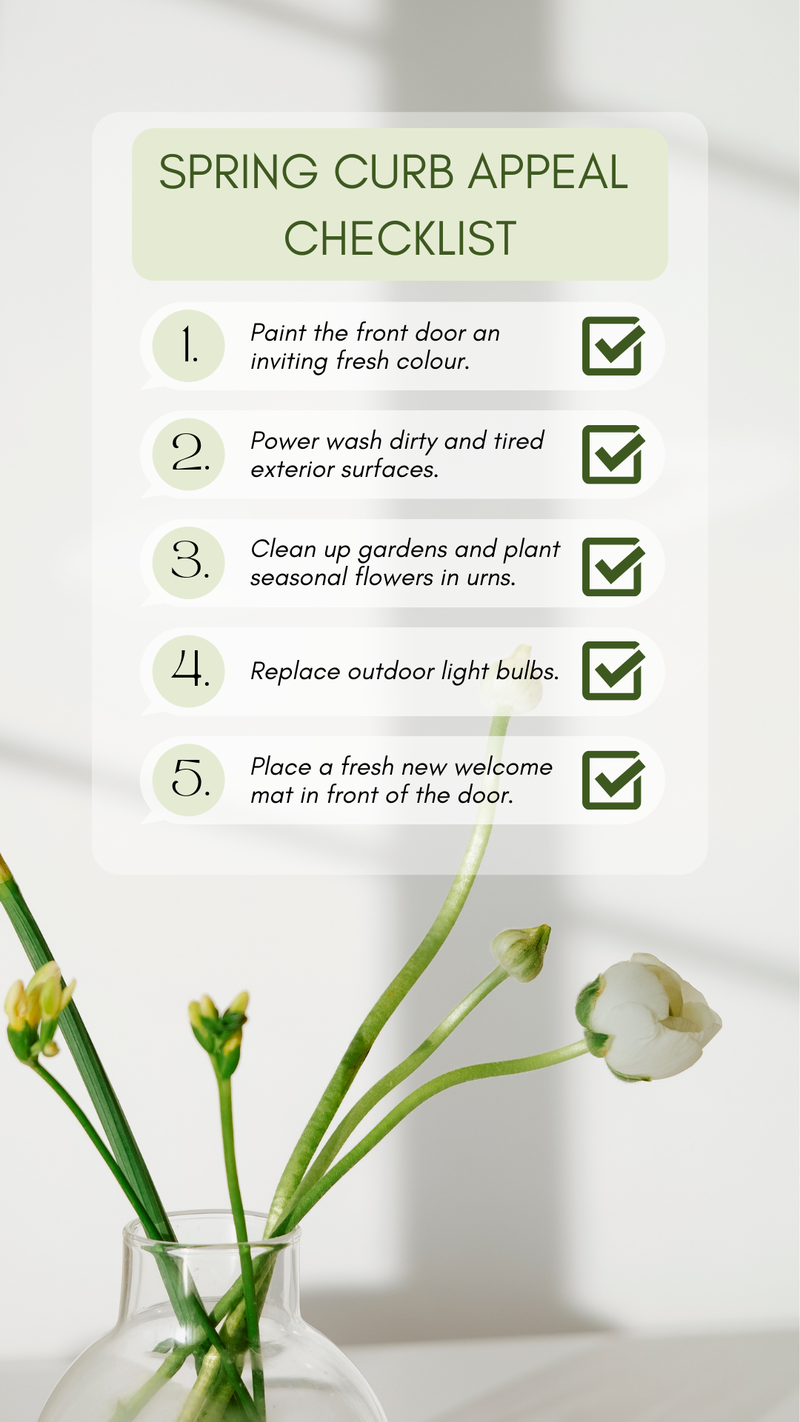 Did you know that
spring is the
best time 
for exterior photos of a house? It's true!  Here are our
top
5 tips to create impressive curb appeal 
for the spring market: 
 1.
Paint the front door
-  create a fresh inviting appearance, making the front door a welcoming focal point for your home. Plus fresh paint always shows buyers that the home is being maintained. 
 2.
Power wash exterior surfaces
-  This can include your deck, driveway, windows, outdoor furniture and shed. Anything that is looking dirty, salty, dusty or tired.  This shows the buyer you are maintaining the home, and helps them envision themselves enjoying the outdoor space. Don't forget about your house numbers- this can often be overlooked. Buyers will definitely look at these when they are trying to locate the house so make sure they are clean...they might even need a fresh coat of paint or a replacement.
 3.
Clean up gardens and plant flowers
-  Nothing looks less appealing than shrivelled plants, poorly manicured shrubs and empty pots or urns. Pull out old dead plants, spread fresh top soil and mulch in garden beds, and plant bright coloured seasonal flowers in your urns or pots to greet buyers with some spring beauty.
 4.
Replace outdoor light bulbs
- This seems like a silly suggestion but you would be surprised how often this is overlooked. A burned out light bulb leaves buyers thinking "If they can't change a lightbulb, what else isn't being maintained?"  
 5. 
Place a new welcome mat at the door
-  A simple change goes a long way. Purchase a mat with a nice phrase like "Welcome" or "Home Sweet Home" to give buyers those warm fuzzies! 
Now let's talk about getting spring market ready
 inside
the house!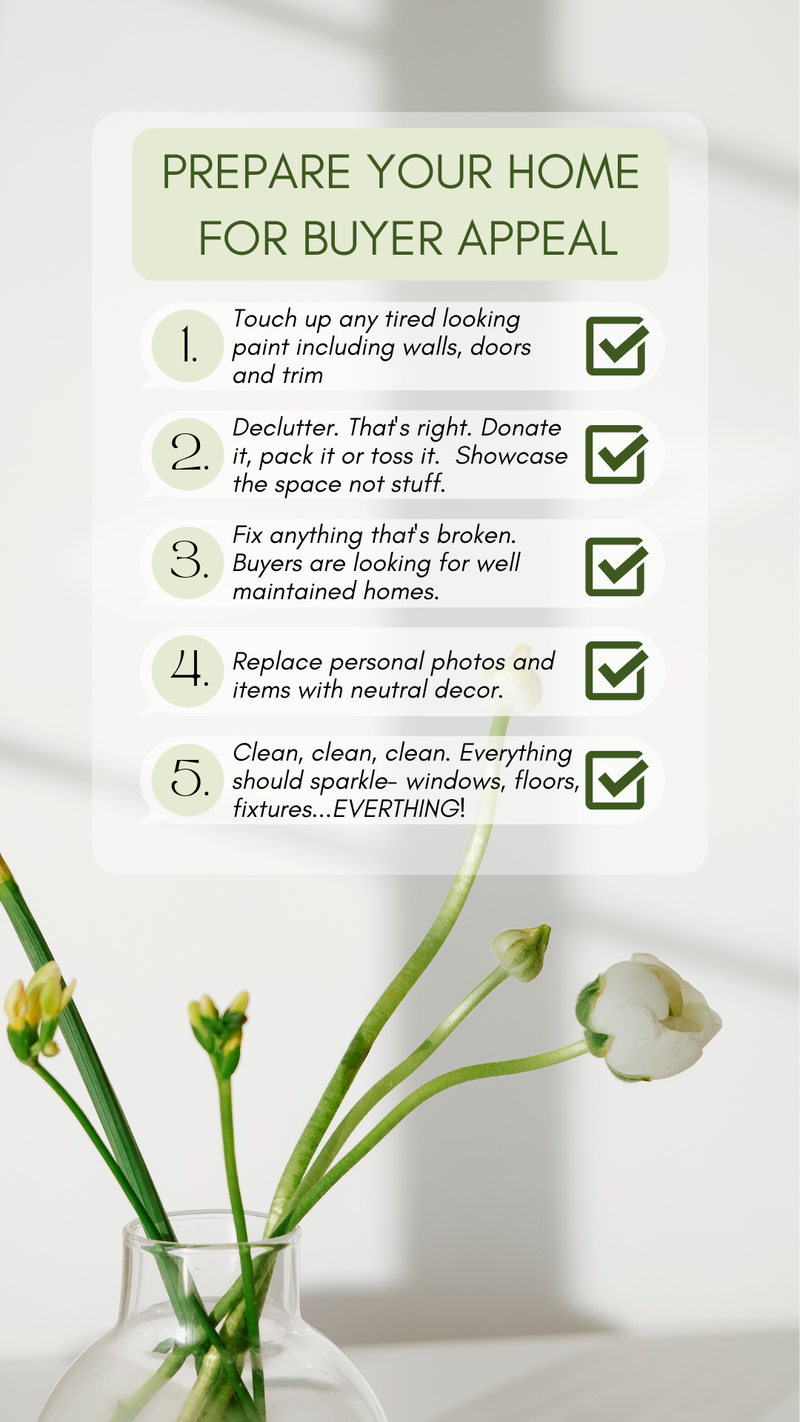 Here are our
top 5 tips for preparing the interior
of your home to sell in a spring market:
1. 
Touch up paint
-  This tip goes a really long way and if you're willing to do it yourself, doesn't cost much at all.  Look for chips, scuffs, handprints...whatever is making your paint look tired. If you have painted stairs or railings, be sure to touch them up as well. Focus especially on trim and doors for a bright, freshly painted look to the entire home. 
2. 
Declutter
-  If you haven't been watching Home Edit on Netflix, this might be a good time to start. Decluttering and organizing go a really long way for helping buyers see the space in your home, not the stuff.  Too much stuff can give the buyer the impression that there is not enough storage in the home. But a decluttered and neatly organized space allows them to see the potential.
3. 
Fix anything that's broken
-  Maybe there's a loose hinge, a leaky faucet or a cracked outlet cover...whatever it is, fix it!   Finding even little things broken around the home tells the buyer the home is not being maintained and they might run the other way. 
4. 
Replace personal photos with neutral decor
- Buyers need to envision themselves in the home and seeing pictures of you and your happy family or friends all over the house makes it impossible. Even things like a child's name on the wall of a bedroom for example, can send the message that this home is someone else's and they don't belong there. Maybe you have a unique cat ornament collection or a sea shell                                                                                                    obsession? Pack it away and replace it with neutral decor. 
 5. 
Clean, Clean, Clean!!
- windows, floors, counters, light fixtures, toilets, grout, inside the oven...you name it, it needs to SPARKLE!  If cleaning is not your thing, invest some money into paying a professional residential cleaner to come do it for you.        Buyers like to see things sparkly and clean. Don't skip this step!                                                                                                                                                                                                                                                                                                                                               
As always, we are here to walk with you every step of the way!  
Looking to find out what your home is worth in this spring market? 
We can do that.  Our agents are experienced and knowledgeable experts in the area of home evaluation!

Need a walkthrough for more specific suggestions on how you can prepare your home to sell?  
We can do that too! Our team offers complimentary staging recommendations!
Need a list of recommendations for a reliable cleaner, painter, handyman, plumber...?
We have a list of trusted and highly recommended professionals for whatever your needs might be. 
Need help finding your dream home?
We love helping buyers find a home they love!
Know someone who is thinking of selling and needs some help? 
We would love for you to connect them with us! 
You can reach our team by visiting our website at walkerteam.ca or call us at (705) 309-9014.